Fiberoptic Test Equipment
CONNECTOR INSPECTION INTERFEROMETERS
FiBO 200   |  FiBO 250  |  FiBO 300
CLEAVE CHECK INTERFEROMETER
VFI-200  |  VFI-1200 |  VFI-2000
MODAL EXPLORER ENCIRCLED FLUX MEASUREMENT
MPX-1  |  MPX-2
FIBER GLASS GEOMETRY MEASUREMENT SYSTEMS
FGC-GT  |  FGC-GS  |  FGC-GA
MODCON MODE CONTROLLER
OCT PHANTOM
VISUAL FAULT FINDER
CLEAVERS FOR SM, PM AND RIBBON FIBERS
CONNECTOR INSPECTION INTERFEROMETERS
FIBO 200 • 250 • 300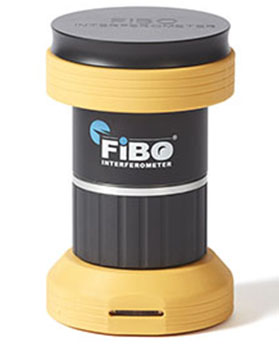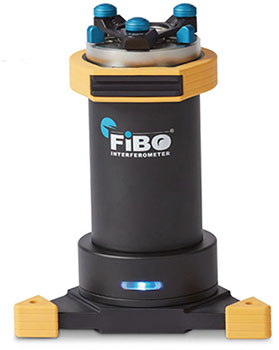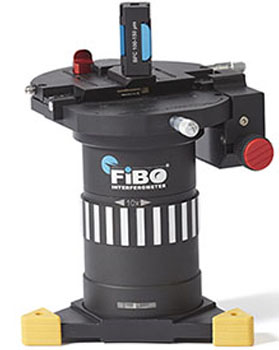 FiBO 200 Interferometer is an economical solution for complete and accurate fiber optic connector endface testing. High-resolution 3D surface metrology and automated defect detection are combined in one robust, compact system for quick and easy inspection on the production floor or in the field.
FiBO 250 Interferometer is a complete solution for accurate endface testing of all standard fiber optic connectors. High resolution 3D surface metrology and automated defect detection are combined in one compact and portable system for quick and easy inspection.
FiBO 300 is a versatile phase-shifting interferometer for the advanced analysis of fiber optic endface geometry of bare fibers and non-standard connectors. The variable optical zoom has three different magnifications for viewing most fiber diameters and a wide range of holders and accessories can be used to easily mount testing samples.
CLEAVE CHECK INTERFEROMETER
VFI-200 • VFI-1200 • VFI-2000
The VFI interferometric inspection system specifically designed for checking the surface quality and flatness of your cleaved or polished fibers. The VFI interferometer has proven itself in Research, Production and QA environments.
3 different fields of view depending on your application

Flat and angled cleaves

Arden and Fujikura/AFL holders

Inspect and Fringe modes

Automatic measurement feature

User calibration facility

Superb image quality

End angle/radius of curvature estimation

"Dual-style" holders fully inter-operable with FGC Fiber Geometry System and Fujikura cleavers and splicers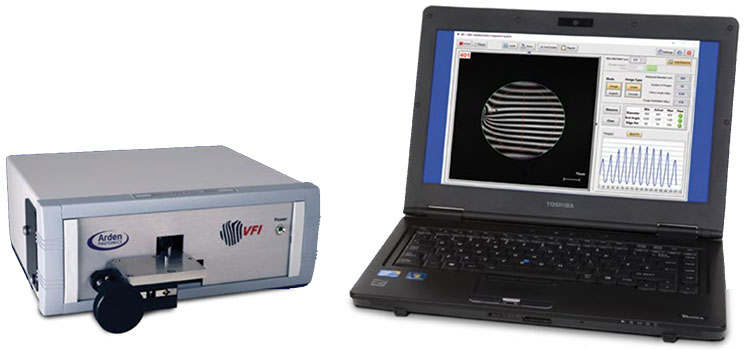 VFI-200 Interferometer
Field of View: c200μm
VFI-1200 Interferometer
Field of View: 1200µm maximum with x1.5, x2, x3 and x6 digital zoom
VFI-2000 Interferometer
Field of View: 2000µm maximum with x1.5, x2, x3 and x6 digital zoom
MODAL EXPLORER ENCIRCLED FLUX MEASUREMENT
MPX-1  •  MPX-2
The MPX Modal Explorer is the Encircled Flux meter of choice for leading companies around the world. Simply connect your source and patchcord to the MPX, and it will measure Modal Launch Conditions in real-time.
End face inspection mode with focus indicator to give better repeatability from operator to operator

Power monitor – optimize light throughput and modal conditions simultaneously

Real-time measurement – adjust modal conditions easily as well as increase productivity

Internal LED with fully filled launch condition

USB2.0 connection gives portability – with the optional carrying case plus a laptop computer

Optional geometrical calibration artifact to enable user calibration of MPX

API software control feature designed for use in the production environment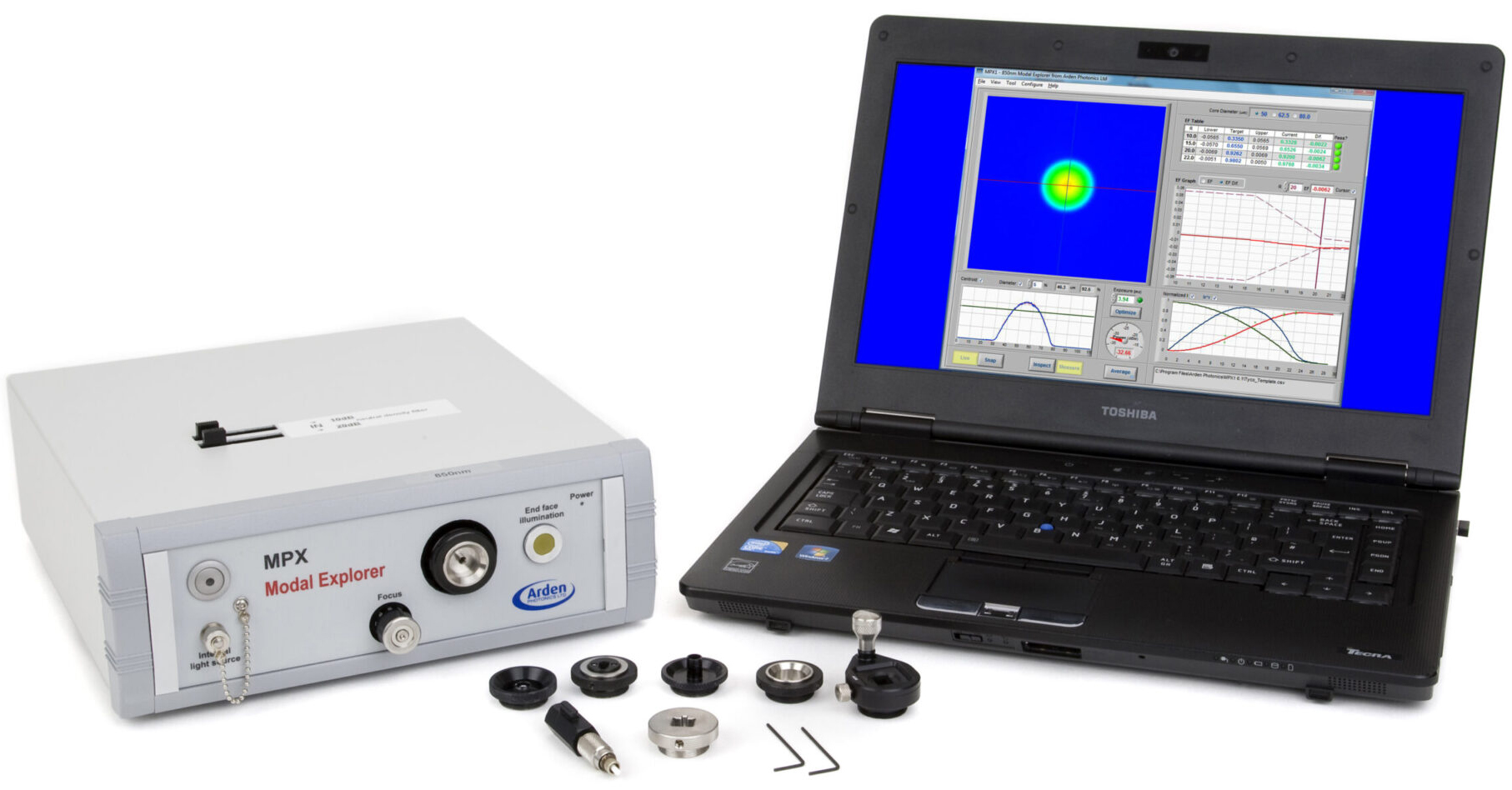 FIBER GEOMETRY MEASUREMENT SYSTEMS
FGC-GT • FGC-GS • FGC-GA
The FGC range is the complete solution for measuring the dimensions of standard and specialty fiber in both production and R&D environments. FGC-GT – fiber glass geometry for fibers up to 400 µm diameter.
Measures the widest range of fiber sizes and type
Single unit solution means less bench space, reduced training
Standards compliant
Calibrated to international standards, ensuring confidence in its accuracy
Production ready
Reliable, repeatable, operator-independent results in seconds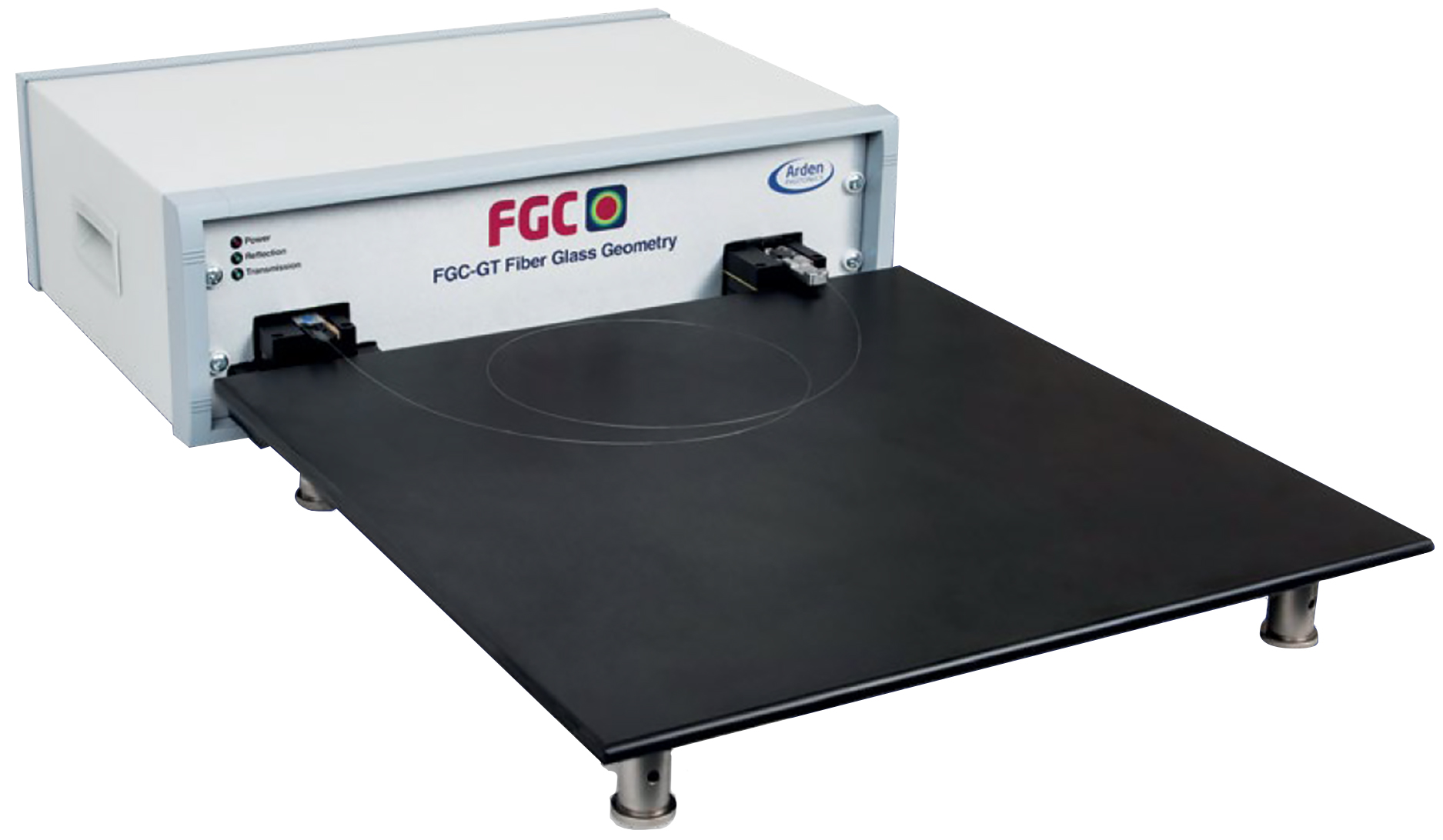 The ModCon Mode Controller is designed to ensure that whatever source you use to test the loss and bandwidth of your multimode optical fiber network, LED, Laser, OTDR or white light, you launch the same distribution of modes into the fiber. As a result you can eliminate the variations due to the widely different modal characteristics of the sources commonly used in fiber optic measurements and networks.
• Improve measurement accuracy
• Ensure stable launch conditions for multimode fiber measurements
• Meet EF requirements of IEC 61280-4-1.
The APL-OP01 OCT phantom is a device to qualitatively and quantitatively characterize the performance of an OCT system, including spatially varying resolution, sensitivity, distortion and scan linearity. The phantom contains four geometrical patterns inscribed within a substrate to form localized refractive index changes.
The 4 test patterns are from left to right:
• Point Spread Function
• Sensitivity
• Lateral resolution
• Distortion
Each of the 4 patterns has different features but they all contain 8 layers.
In each pattern, the first layer is located 100µm below the surface of the substrate and the separation between each subsequent layer is 75 µm.
So the bottom layer is 625 µm from the top surface of the substrate.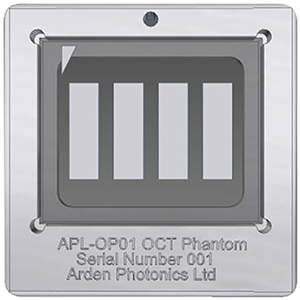 Model F6230A is a compact, pencil-style Visual Fault Locator (VFL) that features a 2.5mm universal connector for ST, FC and SC connectors. An adapter is available for use with LC connectors. Operation on a single 1.5V AA alkaline battery keeps the overall size and weight to a minimum while providing a long battery life.

Ox-SAP-08
Sapphire Angled Cleaver
Ox-SAC-08
Diamond Angled Cleaver
Ox-RAC-08
Ribbon Angled Cleaver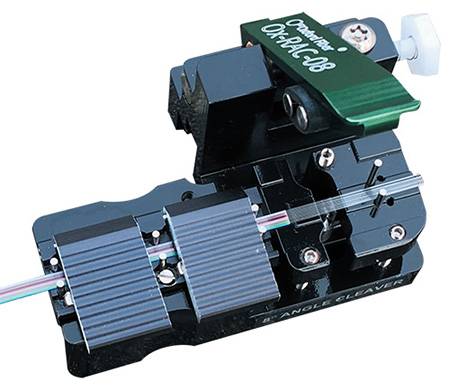 • Angled cleaving for
field-assembled connectors
• Highly repeatable cleave angle
• Rugged construction for field use
• Detachable fiber holder
for angled mechanical splice
• Sapphire blade
• Angled cleaving for
field-assembled connectors
• Highly repeatable cleave angle
• Rugged construction for field use
• Detachable fiber holder
for angled mechanical splice
• Diamond blade for long life
and accurate cleaves
• Angled cleaving of Ribbon fiber
– Attachment to planar waveguides
– Mechanical splices
• Highly repeatable cleave angle
• Rugged construction for field use
• Minimal variation in cleave length
• Diamond blade for long life
For All Your Fiber Optic Cleaning, Inspection and Management Tools
Contact Optimark Fiber Optics Today (617)232-6224